Nadine's barn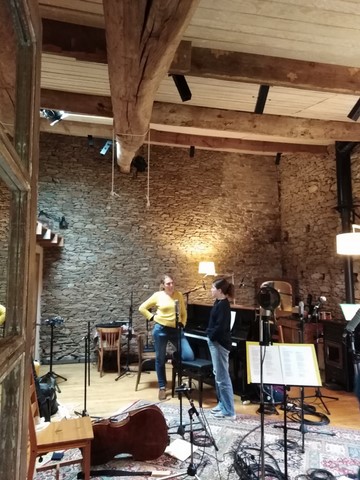 This Friday 29 October begins session 2 of the recording. In a very beautiful place, for a change.
Plan A had fallen apart because of unavailability. A beautiful place yet this music school so familiar to the mom that I am. It was also rather funny to record where I saw so many auditions but also to set foot there again when this year, the girls were no longer there. But come on, this wasn't supposed to be our place.

Here I am looking for another place a few days before the session but without stress. I activate the network. Several doors are presented. I think back to that Matusita concert in September in a very nice place in Vertou at Nadine's. I call her.
Very warm welcome. But flute, she welcomes Hugues Pluviôse in residence for 15 days. I tell her about the project succinctly. She asked me to call Hugues to see… And Hugues agreed to release us on Friday morning so that we could record Bateau. Wow… Gratitude.

This Friday, we arrive with Salomé (to the sound) at Nadine's. Its place is even more beautiful than in my concert memories: exposed stones, Persian carpets, wood stove, soft sofas, pretty wooden table, view on its beautiful garden, it's so cocooning… There is everything! Including this famous piano that made us stay in the Nantes region for the recording of this song.

As we unload the "stuff", I say to Nadine, "You can be sure that when the girls are coming, they're going to say oh, but it's beautiful!" And that was the case. Jenny and Suzanne knew the place, but the rest of the troupe merged into onomatopoeias. What a pleasure to make me, to surprise them and to share this beautiful ensemble. All this augured a beautiful morning.

Nadine offers us a little welcome coffee. I brought the croissants. We're connected. Salomé starts installing cables and microphones. We rehearse the piece.
It will be powerful this song, especially since there are many beautiful women on this recording and one particularly dear to my heart: my daughter.
I had this urge for Loïza to play on the record but I didn't know how to get her there. I had made him listen to the song, subtly proposed to contribute to it because I heard from the beginning a piano on this piece. But I felt there was no respondent. Not wishing to insist as I could in the past, I decided to go in search of a pianist. During session 1, Jenny (the trombonist) reminds me of her friends who teach music, including Magali, Loïza's former piano teacher who saw her unfold in her game. But it's of course! What if I offered them to play together on the piece, a four hands? I call one and the other. I am delighted with their reunion as well as their common presence. They are more than willing. Wow... Gift.
A few minute rehearsals later, here we are in the barn at Nadine.
Loïza and Magali on the piano. Jenny on the trombone, Suzanne on the cello. And Nathalie and Annaïck on the choirs. What a nice skewer!
I'm happy to have these two moms in the choir for a song about mothers, children, and choices. Written a few years ago, I had long dreamed of it arranged in its power and universality. I was served.
Thank you.
12h30: it's time to fold the gear, Hugues returns to his residence. We leave the place. The session continues this weekend. From one barn to another. From Nadine to Hervé, there are still a hundred kilometres...
The rest very soon...