The boots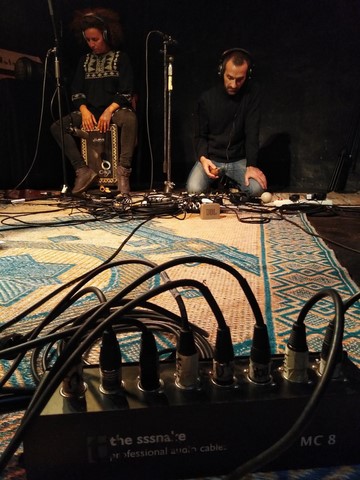 Saturday, October 30: we have returned to our quarters. In the barn-theater. Everyone gets comfortable in this charming place that we had left at the beginning of October.
This time, for most of us, it's no longer a discovery. Except for Fabrice, our weekend cook with Neapolitan origins. Passionate about music and sharing, no doubt he will quickly integrate into our girls band. And more than we think...
But in this morning, it is time for me to give him a tour of the owner and in particular to show him his den, the press, where he will officiate brilliantly. For my part, I have already «sold» good Italian dishes to my colleagues.
But before you feast on the taste buds, it's time to join the theatre. A priori, this day is dedicated to repetition but as here everything is done in consultation and as horizontally as possible, we commonly decide that we will repeat «the boots» and record it in the wake. To stay in his energy. Good choice for this season song I wanted bright biguine. And it sounds terribly Caribbean, I love it!
A vegetarian tajine and a chocolate cake (to die for!) later, we go back to the theatre with Fabrice on our steps who discovers our den, this time, and the famous song. He did not know, however, that an hour later Ludmilla (on percussion) would hire him to complete his rhythm section. It must be said that
that while listening, Fabrice also gave his opinion, imagining even richer percussions on the piece. Ludmilla valid and hiring right away. Fabrice, always fond of music and sharing, is not to be asked. So here he is handling the granular with a dexterity and a sense of rhythm that I discover. He had
reason. Even more percus, it's top and that's the spirit of the song. Except that at this time, it's supposed to prepare us a calzone. I said, "I don't think we're ready to eat with this stuff." Laughter.

We record the song. Several times of course. With, for the first time, rhythmic «re». Hey we're not purists! And above all, we are not Shiva and play incidentally other instruments. The «re» in the zicos jargon is to record over a socket. You still have to choose the right socket. Listen again. Ludmilla has regained control of the rhythm because it is not an easy matter this case. And we must believe that this album will remain 100% feminine until the end. Cherry on the cake, it gives us a Caribbean rhythm on a bottle of Sainte-Colombe (the local beer) that makes me really enjoy it and puts a finishing touch to the song. What a talent!
9pm: we take the way to the wine press for dinner, not dissatisfied with having finished. Fabrice with his polyactivity of the day did not have time to raise his pizza dough. Whatever it takes: penne carbonara (the Neapolitan recipe without cream, says the chef "cream is folklore!") are being prepared... The glasses clash. We can congratulate ourselves greatly. The boots are in the box! Mission accomplished for today.
Irmat! (Cheers in breton !)