the scrap metal poet part 1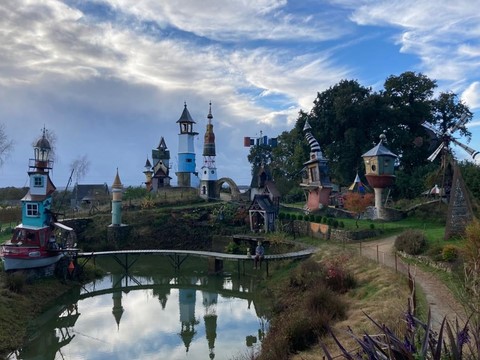 This 1st of November, it's 7:45 (new time) and we're leaving from Thourie, direction Lizio. Thourie and Lizio, it sounds a bit cartoon buddies. And it's finally pretty close to reality. For the cartoon because we are heading towards an enchanted universe (which I know, but not the girls). For the friends because Robert we go to, knows of the childhood Hervé from whom we go. Crazy.

Rewind session 1: I recall around the dining table my wish to record I saw in a chapel, for acoustics. Catherine cites several leads to me and exclaims: «I know, Lizio, the scrap poet!» This announcement clicks in my brain. I visited this little chapel which does not look like it (since it is rather round in shape), if not the arrow at the top. I don't remember the acoustics well, but Catherine's pretty dythirambic. And the very idea of doing this poker game of going in without checking is fine with me. Because I have a history with this place. I discovered it more than 20 years ago with my parents. It was then the universe of a man and his animated automatons that already delighted the eyes. My father had been fascinated by this place because he was one of those men who make beautiful with their hands, a lot of recuperation, inventiveness and poetry.

I came back two years ago and the scrap poet had become a builder of an enchanted village. That had changed a lot in 20 years. The magic was unfolding in full light. So for all these reasons, it deserved a poker game.

We arrive in Lizio. I can't wait for the girls to discover. Robert is waiting for us. I like his blue eyes, round like children's marbles. I tell him about the project, he leads us to the chapel which, in fact, is called the dome, at the very bottom of the place. The dome is a place where he likes to be silent and meditate. For our part, we will sing there, will it work?

We enter this dome. Round. Parquet floor, nicely decorated. When we are in the center, we have like a helmet on the head. High frequency place. Surprising. Robert leaves us to our business not knowing if it will suit us... Premonition?
The sun is here. We unload the equipment and take a seat in a place normally visited and which we enjoy alone in the world since it does not open to the public until 14h. A real luxury.
To the right of the dome, a house under construction and a woman entering a candle in her hand. I greet her. It is Josiane who will be, we do not know yet, our guide in this universe during this morning.

Today is All Saints' Day and it comes to celebrate the memory of Élie, Robert's son who died a few years ago in a car accident. This house under construction is her palace as she likes to call it. Let us sing in the dome today. And I too am beginning to think that this trip to Morbihan is anything but trivial... My father, Elijah, All Saints. Atmosphere. Powerful.

Salomé installs the microphones, I start to take the temperature of the dome with my voice and guitar. It's not very hot and my fingers are getting blisteringly cold. Meanwhile, everyone goes to the village to discover the works and words of the poet. We will have to ring the reminder because we have a goal: to record a song!

First shots. I'm on the little circular bench, girls facing me. But I feel a bit stuck between the cap, the poncho, the microphone, the microphone foot, the desk. This is not a simple matter. Recording in the cool while we were used to the stove, even if the place is exceptional, does not happen fluidly. After several shots, we opt for the coffee break proposed by Josiane in the café bookstore home, to warm us up.

But we are not at the end of our surprises…