The scrap metal poet part 2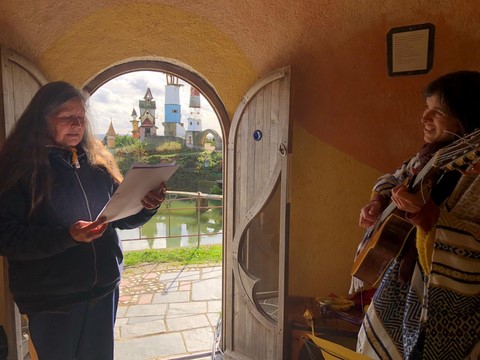 This little coffee is good. To the body and especially to my fingers frozen. I open it to Josiane behind the counter. «You understand, already that I have the charge of the solo instrument, it puts a little pressure on me, so if in addition my fingers freeze, it is worse». Something like that meant that. Not one, not two, Josiane goes around the counter, joins me and takes my hands. To warm them up with his hot ones. For someone who has known me for an hour, taking care of my hands like this fills me with gratitude. I look at her. She is beautiful with her long ashy hair. A witch like any other. Then she takes care of each of my hands, massaging them dynamically by closing my eyes. The emotion rises in me. While the rest of the team chat with two local employees, Josiane and I are alone in the world. I see a tear on her cheek, I don't understand it, but I think we're connected. By our hands. It's beautiful. I warmly thank her for this gift and take back, determined, the direction of the dome, ready to fight with this recording. I don't really want to talk, just play and use this care... The girls follow me. Josiane too. Looks like she'll be watching over us until we leave.

She approaches the dome listening to the song. She looks at the text, sings a song with me. Then we continue the recordings and invite him to attend by joining the bench. My fingers are better but I'm running out of breath again. This song is asking me a lot. I'm trying to stand up again. Pause in the sun.
Josiane asks me, "I don't know anything about it, but you're going to dig way too deep into your "finally". It would be simpler." Damn it, I who love this ending and its rise in the treble, I must also admit that it is not wrong. I am always at the end of my breath when I should finish it posed, anchored.
Two o'clock is approaching and we have to think about bending. The public will be here soon. We try a few last shots and at the end, the rain comes in. Good timing. Loading in the car, we picnic under the shed provided for this purpose and resume the road towards the Ille et vilaine.

In the car, I was shocked and saddened to learn of the death of a great musician from my family. This day was definitely intense in emotions…
We join the barn-theatre where we are waiting for the friend Annaïck who participated in the choirs for session 1 and puts the cover for session 2 for «Boat» first and then «If Great».
But before that, we decide to listen to Lizio, not sure if we have a good catch… After 2h30 of driving in the paws for the day (especially for Jenny who drives), we decide to be efficient on the way back: one will make fire, the other coffee and tea, and we meet at the theater for a small snack listens.

We have to face the facts: it is better that we re-record in the theatre tonight. And it is true that in very few takes, we are all together and the magic of the piece operates. This is poker, you lose or you win. But in view of our meetings, we really did not lose anything to go to Lizio, even if obviously I would have liked to turn the trial into a big one. But that's the way it is.
After the recording, we think we can make the evening glasses clash, but Mya exclaims: «you wouldn't want us to have a little rehearsal of Si Grand?» Given the day, personally, I would have made myself a chaise longue right next to the stove but well there is still a hint of energy in this team, so we rehearse again for an hour. And afterwards, I congratulate Mya for her idea, the chaise longue is only better. So big is back on track for tomorrow's recording. That's what it took.
We even improvise on the music of the so-called song an ode to Henri, the darling of Annaïck who, not being able to be there for us to concoct his good dishes (I recall that since the day before we did not like to cook), has concocted three catering dishes delivered by his sweet. Again, all we have to do is put our feet under the table. Royally.
The glasses can finally collide !