J'ai vu si grand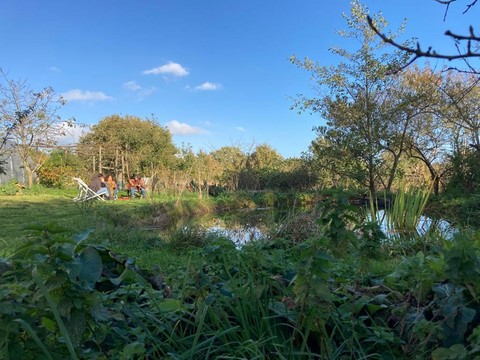 "Si grand" is the little song of summer 2021 but it has everything of a big. CQFD. While after session 1, I had to definitely act the songs that were going to be part of the more quarté, this one vaguely recorded on my mobile phone one after-summer midday at Bernerie in the rustle of the weeping willows was going to pull out of the game against others more expected and more successful. And when I see the result today, how happy I am that she is!

Suzanne traded her cello for a ukulele. Jenny traded her trombone for her hard-hitting toy chest. Ludmilla finally used the tearing cajon. And I still play the guitar, now pretending to be Brassens, which on the pride of a musician does a hell of a lot of good!
It's starting to ring. It's joyful, playful, fun, childish. Again, the spirit is understood by my associates. Neat arrangements.

Midi calzone, yes at last! The fatigue begins to embrace me but the sunbeds are there. And the sun also against all odds. It's perfect.
So we decide to join the useful to the pleasant by installing our chairs near the pond to repeat I saw. Suzanne removes the dry grass with a fork to visibly set up a corner…?! I immortalize this incongruous moment which, fortunately escaped our host Hervé, who would have really taken us for city girls.
We repeat our polyphony in the sun and in the wind. After the fork, we continue to lack lucidity but we don't care. Join the useful to the pleasant I said. Ok. We end up going home. Because playing scratch in a chaise longue is not the most comfortable.

«J'ai vu» will be a song in the purest form: guitar voice, including that of Jenny I don't know yet. Being the «main» instrumentalist puts a little pressure on me, it must be admitted, but bon alea jacta est. So I wished it, so it will remain. It is also the only song composed and written in the barn-theatre during my writing residency in April, on a sad rainy morning for a song yet rather luminescent (I just invented this word that I like).
I'm going to let my colleagues rehearse, because I have to take Fabrice back to the tram-train. Sniff. No more Italian food. I throw the thigh on the platform at 5:20 p.m. The train leaves at 5:21 p.m. Everything is perfect. Not everything. Because when I came back, I took so much confidence that I invented a shortcut that leads me straight into hollow paths full of water, dotted with potholes and leading to an obvious cul de sac: a field. The cows are looking at me, stoic. I sigh for this 15 minutes of extra time, behind the wheel of Jenny's car, which I think must be muddy to my heart's content. I finally find my way back and meet the girls who were out for a walk (it didn't work hard). A little farty, I ask them what about the stained body. Not at all. It seems that this partner is self-cleaning. Everything is really perfect.
Last rehearsal to refine: the choirs ring. Tonight, it's Halloween or Samhain but no child alive. A vague idea to go scratch two three candies to Hervé plane but we will remain wise, at the corner of the stove. Delicious leftovers await us and we will go to bed early. The magic is for tomorrow!