A rotten song in Avigny part 1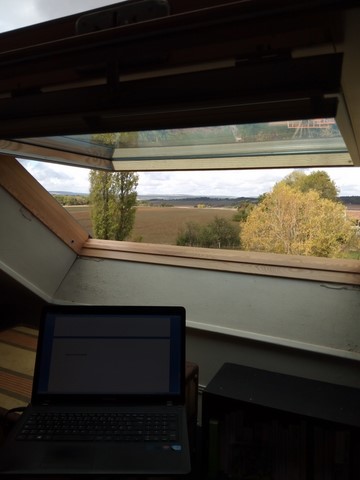 Starting this Friday 9 October morning, comfortably installed (all conditions required), I am supposed to open my guitar case, dive into my writing books to read, clear, finish, compose etc, etc. But there is a but. I have no desire to do so! Here we are…

It must be said that I have been working for some time on anti-procrastination, which is coupled with a fierce desire for anti-injunction. We're not out of the woods! In other words, I try to do what I want to do in the present moment. What our neo-liberal and Judeo-Christian Western society (hop the little gift package) does not especially help us to concretize, or even worse, by constantly referring us to our guilt of what is done versus what is not done, work versus leisure, passion versus reason, in short...

What makes me want right now is to start a logbook to tell my journey from Nantes. With the idea of sharing it. Enthusiastic and hyper motivated, I open a blog. But very quickly, I also realize that this case is going to eat me up all the time. I'm not here to do graphics and put the pressure of a daily rendering with my 100 followers on Facebook! Why is there always this need for accountability? I drop the blog but continue with joy the logbook, computer on my knees facing the campaign. We'll see when it all comes out.... Because I'd like to see that later....

Apart from this diary, my activities consist of very simple things: walking, cooking (my hosts do not complain and would keep me well!), eating, drinking and chatting with Martin or Sophie or both.

Martin is a writer and trainer. Sophie is an actress, director and hypnotherapist. Suffice to say that between them, it forms a beautiful Swiss knife. Our conversation topics are therefore diverse and varied, ranging from music to spirituality, theatre, mediumnity and chakras. This residence is taking an unexpected turn. I pass a series of other topics that could scare more than one here, make me look like a witch like the others and that is not the purpose of this residency a priori, I remind (even if I feel a hint of curiosity in some of you...)

I'm like a battered rooster here. But I still haven't touched my guitar. Worry. I open up to my friends. What to do? As psychologists they are, they advise me around a good Burgundy to free me from this idea by creating a rotten song. 'What????' I said. Did you see yourself when you were drinking? My arms are falling... Such fine people are asking me to make a rotten song. Thank you very much. But I'm intrigued and I ask, "What?" Sophie to say, "You know, like I promise." What? I hurt my Johnny, I who carried the memorable memory of a concert at the Accor Arena where, in the pit with the fans of the first hour, I uttered all the hits of the idol of young people. No, I couldn't let that happen.

Yet, with the necessary hindsight, I thank Sophie today who, that evening, triggered in me an emotional shock so vivid that I finally took my Yamaha out of its case to attack me to this jewel of the French song signed JJG for intimates. We weren't sure about the compo yet, but it was progressing. And I worked on it energetically since a private concert of this rotten song was announced at the end of residency (the famous end of residency concert). And when there is an objective that arouses my interest, it is clear that it sets the machine in motion.