Bourron-Marlotte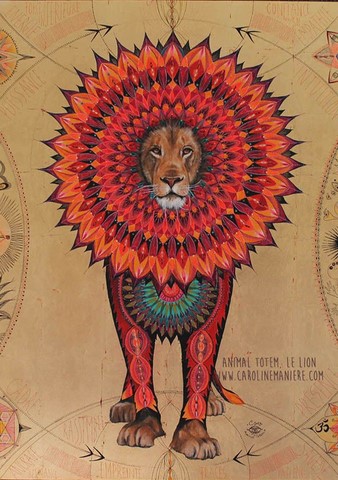 After the escapade in the forest, we are expected in this same village. Bourron-Marlotte is a very charming town by the way and surprisingly opulent with these country stone villas each more beautiful than the other (second residences of Parisians?). I would later learn that this village was frequented a lot by painters in the 19th century.

So it's not incongruous that we were going to visit Caroline Manière's workshop. The specificity of Caroline's work is to paint on copper foil. When I discovered his work several years ago, the canvas represented a very beautiful woman in a somewhat Asian dress very colorful, with always this golden copper leaf present. A very bright and feminine painting. I immediately liked it. I followed Caroline through social media and saw how her work has evolved over the years. From women in «folk» clothes, something different appeared and also more assertive in connection with spirituality. In talking with Caroline, I understand that this notion of folklore often sent back by the public bothered her because for her, it was not about that, about what she wanted to transmit. I learn that she works only on order and that many of her clients are therapists who «invest» in a work for their practice for example. And they are right. If I were a therapist, I would invest in the same way! Caroline connects to the person to create a tailor-made work. The woman is always present in her paintings but now animals enter the dance, always with watermark words, mandalas. I love it, it speaks to me 200%!

I feel Maryse also interested. She dares to talk about her painting to Caroline, I think it's great! We end with a tea in this beautiful workshop (which I did not dare to take a picture of!) and we each draw a map of the oracle of women doctors whose illustrations Caroline made and whose release is imminent! Our maps speak to us surprisingly to each and we leave joyful from this very beautiful place full of beautiful energies. It was my little present.
Back at Maryse, it will be high time to gather my belongings and leave the Seine-et-Marne if I want to arrive before the night in the Yonne, at Martin and Sophie, my home drop. Avigny, I'm on my way!