Preparations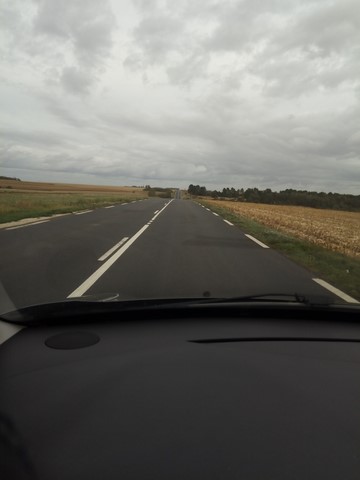 When you are on the right path, it is clear that things are done simply and quite easily. My very pragmatic bull temperament when the thing is decided is a plus, it must be admitted. In the space of a week, my journey is stalled. I will land in Burgundy on the evening of October 6 and return home on October 15, having a professional imperative the next day in Nantes.

I already know that I do not want to take the highway (small militancy by the way) and take the time to arrive at my destination by stopping at friends or friends of friends. Since the theme of the residence has emerged, another idea, very simple but already well anchored, has extended it: ask my hosts to show me a very beautiful place of their choice. I say no more. So as not to influence them. To let me be surprised too. I guide them just by asking them for a fairly obvious place for them. Don't think too much. Let your intuition speak.

From my apartment, I converse on the phone with Maud, Maryse and Blandine making them this small complaint that they take, I have this feeling, as a small personal challenge" quite pleasant. It makes me happy too. I will take for the occasion my camera offered nearly 20 years ago by my parents, to photograph these very beautiful places that I am about to discover. I haven't used this camera since... the Greek calends and I am even forced to look at the instructions to make sure the correct installation of the film, it sucks ! But I am very happy to bring this object back to life for the occasion.

In the objects category, I also bring: my faithful Yamaha guitar, my dictionaries of rhymes and synonyms (it can always be used), my writing notebooks, two Joy and Peace candles from my Loïza and a rose quartz (between peace, joy, love, it should be okay !) my all-terrain thermos, my recorder, a sanza, a small suitcase (we said light) with outfits in which I am comfortable Blaise, my walking shoes (of course !) and also a small pantry to share. In short, I'm doing quite well on the turtle side. The house is not so heavy.

Moreover speaking of house, the phenomenon is quite surprising... Once the road trip is decided and the steps are set, I start bricking my house, from floor to ceiling. The week before my departure consisted of a big cleaning... autumn ! I told myself that I was really doing things offbeat or, at least, in my own way. The big spring cleaning that I could have started during the lockdown like most people hadn't happened. So I put away, sorted, threw away, meticulously dusted each piece, something I usually do not do or with very little enthusiasm ! I experienced it as my preparation, my training. Finally, without knowing it, the residency had already begun. I was preparing the ground, as we prepare a support before putting the wallpaper. I needed emptiness, new, purification and this first went through my place of life, my interior, to leave room probably for my creativity and my interiority. I was also preparing my return after residency to return to his nest and find it very beautiful too?

So there you had it, there was only to leave but the cleaning and the preparations did not end! Fatigue was felt even before leaving. Despite everything, I took the time to make myself this henna that had been waiting for 6 months. It was also about being pretty for this residency that I offered myself. So I took that time for myself. And then, finally, I left.